Why Choose Online Dairy Product Delivery Software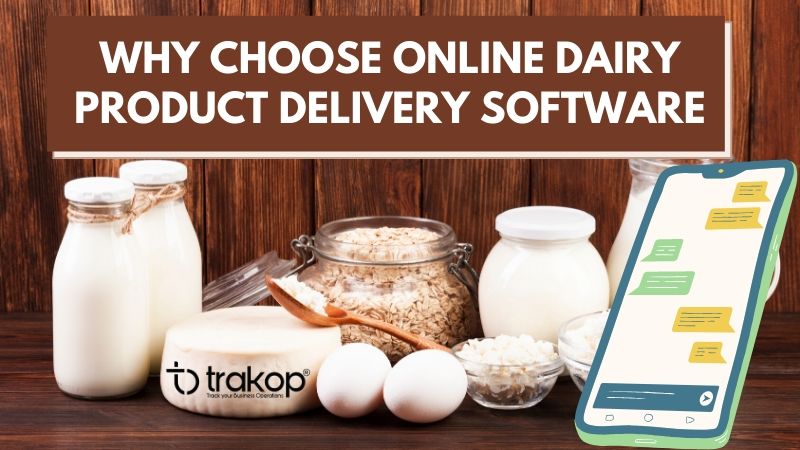 Whether it is a dairy farm owner or the one who deals with dairy products; all deal with different challenges. From keeping the products in a sorted form, to deliver them before their expiry date, keeping the customers; there are many such issues that generally affect the business. So, what do you think? Is it possible to cope up with these problems with the old traditional methods? Well! They are not that effective nowadays. The technology has infused a lot of energy and changes in the ways we offer services and also the customers take services. Online delivery software used to deliver dairy products are some of the new ways to ease the ways of doing business.
 Before talking about the delivery software let's have a look at how and why online dairy product delivery software came into existence? Similar to the other sectors, the online platform has become a must way to market things or reach to the customers.
 What is Online Dairy Product Delivery Software?
It is an incredible platform through which the service providers of dairy products can sell their products online. These products may include- milk, cheese, yogurt, etc. After the success of online milk delivery app solutions, the experts have developed the online dairy product delivery software to help the wide range of people offering services in the dairy product sector.
Online milk product software has three different panels. Each panel is developed for individual users that offer a unique identity to every user and independence of representing their business online. The independent platforms are named as-
 Admin Panel
Delivery Panel
Customer Panel
With the help of a customer panel, online consumers can place an order online by selecting the dairy products from the lists. The online delivery software enables users to select the delivery timings and get it delivered at the mentioned address. Similarly, the service provider can represent their business online and to get the orders online. With various in-built features, they can track the complete business. The delivery panel is used to deliver the ordered products to the customers' doorstep.
[trakop_ebook]
How Online Milk Product Delivery Software Can Help Business Owners?
If you are connected with a milk delivery business, dairy product delivery, or own dairy farms, just read the points. They will surely help you.
Online Delivery Solutions Boost Profits and Productivity-
Be a dairy product store owner, or a jewelry dealer, real-estate dealer or an owner of a service center, each one of us has to step in as per the market vogue. It is important to change the way of doing business as soon as possible if you want to compete with the competition. You can't simply ignore or skip the needs of your customers. If you do so, you would simply lose your customer base very soon. Online delivery solutions enable you to connect with more number of customers. In less time you can offer your products to more consumers that ultimately increase sales counts and of course profits too.
A Unique Way to Increase Customer Base-
It is the ultimate way to connect with more people in less time. Irrespective of the sector of offering services, every entrepreneur wanted to increase the customer base by offering unique services. Online dairy product delivery software definitely is one of the sources that expand the services and helps in connecting with different consumers in less time.
You Can Track the Whole Business– 
The online software is welcomed by every business owner because they give more visibility and transparency about the business workings, etc. From keeping the records of dairy items in inventory, customers, safe delivery of all products, revenue generated in a day, week, month, etc – everything can be tracked from the screen of a smartphone.
Ease of Making Payments Online –
One of the most time taking areas that consumes a lot of time is keeping the records of payments. Getting payments online and having an online record of all transactions is an amazing benefit that an owner can have. The online dairy product delivery software bestows to deal with the payments with multiple payment options such as- mobile payment gateways, credit cards, debit cards, etc. This feature has made the payments safe, secure, and convenient for all the users.
Wrapping Up-
Features of online dairy delivery product solutions work as an ointment for the business owners that relax the pain area. Trakop is an awesome online delivery software helping business owners to work with ease in the right direction. If you have any queries regarding your business and looking for online delivery services, our experts are there to offer you the best online solution at the lowest cost.
Hope You Enjoyed the Read!
He loves to explore. His passion for helping delivery industries in all aspects flows through in the vision he has. In addition to providing smart solution to make delivery process flawless, Ravi also likes to write sometimes to make it easier for people from business industry looking for digital solutions.