5 Reasons to Develop Best Pharmacy Delivery Software for Medical Store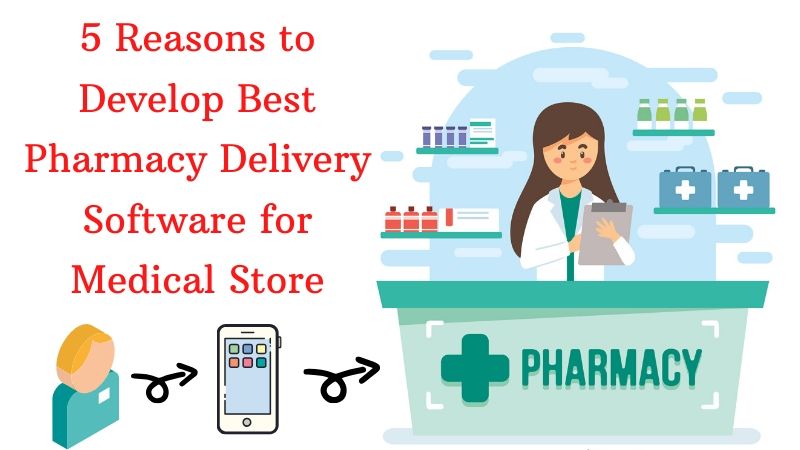 Are you thinking of switching from old traditional ways of medicine delivery into new ways? If yes, you can do it with pharmacy delivery software.
Do you own a medical store or a pharmacy or just into the medicine delivery business from producing units to the customer's place? If yes, then this is the right time to choose the best delivery software for medical stores that are helping pharmacies to work amid the coronavirus outbreak. Without any doubt, the competition is too tough in the pharmacy business, but with the online delivery software having the best features, you can top in the competition. But now the question is which things make the pharmacy delivery software the best for the medical stores.
What Are the Reasons for Developing Medicine Delivery Software?
To be very honest! There are so many of them to develop an application for delivering medicines. Let's have a look at the main reasons. 
Medicine Delivery App Increase the Customer Base- 
Whoever is in any kind of business knows the pain of keeping the old customers as well as interacting with the new ones. Nowadays, almost everyone uses smartphones to get things that may include- ordering food, grocery, flowers, taxi booking, and many more. For all of these services, different applications have been developed. 
Similarly, the online pharmacy delivery software enables the customers to order the required medicines, drugs, etc from the medicine ordering applications 24/7. The pharmacy management software is helping the medical stores to connect with a larger number of clients in a short time. 
The medicines are listed in such a way that the online user can check the expiry date, price online before ordering them from the application.
To Get the Online Payments- 
The online transactions have made online medicine delivery software the best. As the customers need not pay in cash. The in-app payment options enable them to pay for ordering the medicines through MasterCards, Visa Cards, mobile payment gateways or even choose the COD (Cash On Delivery) option. Therefore, the hassle of calculating the total sum of money, need for paper, pen, calculator, etc are efficiently discarded with the help of online medicine delivery applications.
Online Pharmacy Delivery Boost Revenue- 
Everyone invests their money in businesses that actually enhance their profits. Medicine delivery apps are an excellent way to accelerate revenue. As there are so many times when customers need medicines but can't order them due to many reasons such as- odd timings, weather conditions, and many more like closed stores, but the online delivery software for pharmacies works 24/7. 
They just need to choose the required medicine and time of delivery. Don't you think it is an awesome option? I think it is. Look, you can get the medicine orders even at midnight. It would naturally scale-up the profit graphs. 
They Help In Reducing Wastage- 
It happens many times when medicine expires because you or an individual from your workforce keep them at an inaccessible place in the store. All that results in a loss. But the pharmacy management software can store every single detail about every single drug in the online distribution software.    

With this, you can stop the wastage. As there are several advanced features like loyalty options, discounts, offers, that you can use them to show the availability of drugs having expiry date nearer at a bit less cost to your loyal consumers. This would help you in many ways – as you can accelerate your business profits and make trust among customers for your brand & online medicine delivery services and of course reduce the loss. 
Wrapping Up-
In Conclusion, I don't think you have any reason left to not to develop a pharmacy delivery software for your medical store. Yes! I can agree that you may have queries? Do you have any questions? If yes, please discuss them with our expert team, they will help you in switching to online medicine delivery applications. 
Hope You Enjoyed the Read!
He loves to explore. His passion for helping delivery industries in all aspects flows through in the vision he has. In addition to providing smart solution to make delivery process flawless, Ravi also likes to write sometimes to make it easier for people from business industry looking for digital solutions.