How AI can help your Delivery Management Business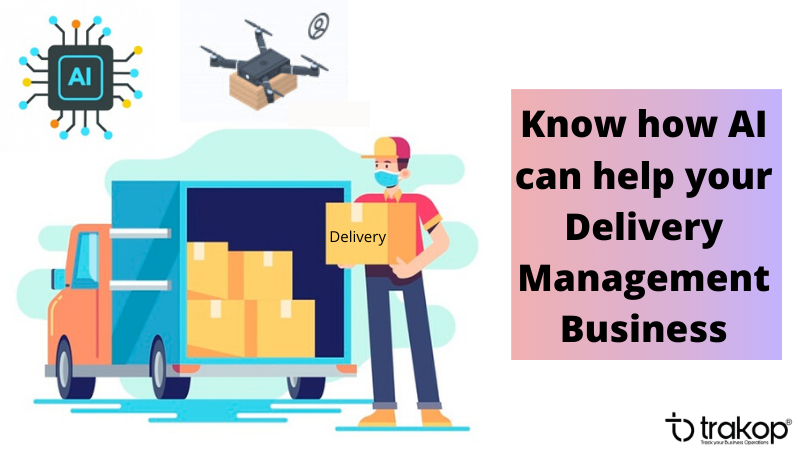 Every business has its own different challenges and difficulties. Delivery & management is one of the aspects that require a lot of resources in terms of money, manpower, etc.
But technology has helped businesses in every sphere in the best way. In this technical era, there are a lot of different technologies that have emerged as a big necessity for businesses. Some of the technologies that have been a buzz in the market are- Artificial Intelligence, Big Data, Artificial Intelligence, Cyber Security, Machine Learning, and Blockchain.
All the technologies are stepping towards the revolution in the innovative world and that leads to a changing world and impacting our lives and way of doing business and living styles. Technologies have made different activities better whether they are related to personal or professional. In this blog, we are going to discuss some of the points that enable you to know Artificial Intelligence more closely and to know how it is helping the delivery business.
AI– The Game Changer
Just like the game, the rules of doing business are changing. To be in the game, it is inevitable to follow the rules and rules on the competitive ground. For example- organizations following or adapting AI in their routine work are growing and have seen rapid hype in productivity as well as diminished flaws. Product delivery management systems are something that involves a lot of different skills that are required to deal with diverse kinds of users. It helps in achieving goals, to decide where to invest resources in the future, and to churn out the maximum profit. 
With the help of AI, service providers can plan their day-to-day activities more effectively which can lead to enhanced performance. Besides, AI-enabled products have reduced human involvement.  
Now, let's have a look at how AI-enabled software assists companies and businesses in managing deliveries and managing inventories, etc.
AI-Chatbot Assistants- 
A chatbot is one of the most widely known components, especially in delivery management systems. These have now become indispensable element that enables entrepreneurs to answer the queries of customers immediately without any delay. As per the study of Gartner, by the end of this year, almost half of the medium to established businesses would have deployed the AI-chatbots in their online solutions- especially the ones dealing with multiple customers at a time. 
Further innovations and helping hand technologies are able to sort and deal with the input data that may include spoken & written information or query- NLP technology can be added here. Organizations dealing with a number of customers can easily calculate or get vital information quickly.  
Managing the tasks of various different individuals is one of the most comprehensive things of delivery management solutions. The admin needs to act delegate as they have to manage, organize, and track the execution of each resource. And, if there is any obstruction in the execution that can be easily monitored with the help of technology.
This feature can further help in specifying the tasks like getting status updates, assigning tasks to the delivery experts, mentioning alter notifications about roadblocks, etc. There are numerous organizations that are offering their services or businesses AI-based delivery solutions that help in organizing the work and users perfectly.
Can Reduce the Errors Emerged within the Business Solutions-
The most important thing to find at the earliest stage to reduce the losses is finding the errors. The prediction of the system can lead to serious failures for a business. This can be done with the help of IT experts. The solutions where the technology is not being used by the service providers are more prone to lead to failures. 
Artificial Intelligence enables solutions that can predict defects at a much earlier stage and may help them to detect the actual cause of the problem. Therefore, it can help the vendors to know the problems much earlier. All this is because they work on previous data and have the ability to predict the future of any business. 
[trakop_ebook]
For example- the AI can predict the future of business as per the progressions and actual-related risks so in case there are downfall or wrong entries in the data, the solution can help you to highlight it and bring it back to the right track.
Artificial intelligence can identify errors and risk factors and help in overcoming them by providing solutions to service providers. 
You can Envision Analytics Solutions for Your Business-
As per the report generated by McKinsey, almost one-third of products were transferred on time through delivery management solutions 1800. Similarly, the delivery of goods like food, drinks, online orders, etc sometimes leads to a lot of delays. The experts have enlisted some of the different reasons for the delays such as the non-availability of delivery experts, problems while delivering it from one transit to another, etc. 
The online ordering or delivery of products and goods is all about having an online eCommerce retail solution equipped with new and advanced technologies or by choosing artificial intelligence development services. All this may lead to having a firm team at the delivery end and at the admin section, ocean of customers, etc. 
AI Can Improve Productivity and Efficiency- 
If somebody says give me your previous data, we'll let you know the productivity and efficiency of your business in the coming years- Will you believe that? For a layman, it is a completely out-of-the-box topic. But this is possible. AI can do it. As we have discussed the prediction of errors is the last point- but it can do a lot more than that. By predicting and reducing errors it can automatically accelerate the efficiency of the business. 
It can do the tasks without the interference or help of humans. The tasks may include notifications that may include information about the new services, delayed messages, emails, costs, and much more. Artificial Intelligence development services enable enterprise mobility management solutions to read and analyze the data easily.
AI can help in Making Decisions for Your Business- 
What can be done to make the future of the business bright, what to do to improve the performance – These are some of the questions that every business owner thinks and plans. But technology assists in making decisions. And to accomplish the tasks.
Developing an AI-equipped solution for businesses is a challenging task for development companies. But our company is working on different projects for diverse spheres based on advanced technologies.  
Trakop is one of the well-known delivery and management solutions and is a powerful software for delivery businesses powered by Artificial Intelligence technology that enables vendors to deliver goods or products to the user's doorsteps. Just like the other AI products, this online solution enables the vendors to see their business's future. 
If you have any inquiries regarding Artificial Intelligence Development Services, or delivery management solutions just discuss them with our experts. 
Hope You Enjoyed the Read!
He loves to explore. His passion for helping delivery industries in all aspects flows through in the vision he has. In addition to providing smart solution to make delivery process flawless, Ravi also likes to write sometimes to make it easier for people from business industry looking for digital solutions.