How Coronavirus Lockdown has Amplified the Delivery Business Globally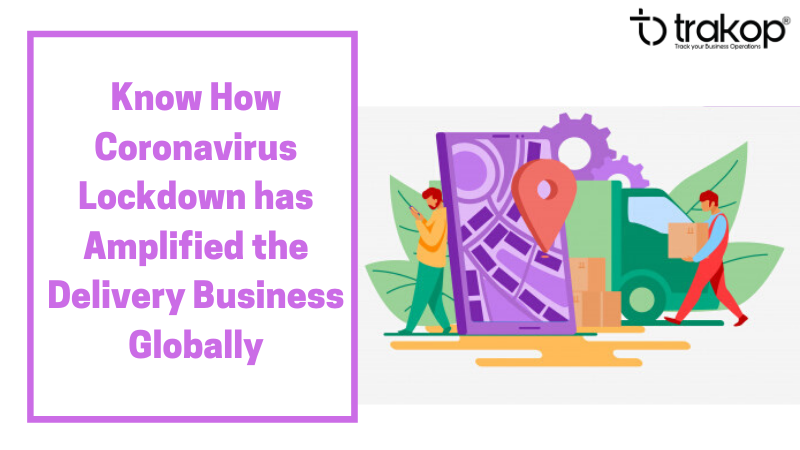 COVID 19 has adversely affected the global economy impacting many businesses. In this situation, there is one business that has actually got a mindblowing boost that is the delivery businesses. A number of online daily delivery applications have seen an increased surge in the number of daily downloads hitting major milestones on a daily basis.
As all of the major sectors have seen the closure of all communications due to this pandemic outbreak opening new doors to all innovative systems of communication or transporting or dispatching that boost no human contact delivery, online deliveries approach, etc.
Increased in Online Mobile App for Grocery Delivery 
In many of the countries where lockdown has become a recent trend to save themselves from this corona spreading, are relying on online grocery delivery software and other delivery systems to meet their daily needs and requirements. It has been researched that the coronavirus does not survive much on shipped packages and products which can decrease its contagiousness.
Such applications are not only helping the government to work as an essential dispatching service for all daily needs products by tracking and providing a good quality of product at customers' doorstep.

Not only are they boosting economies by facilitating their customers to order online which is both convenient and safe. All the food delivery platforms are quick, cost-effective, and useful for the people who are working from home by giving a variety of options to choose from. These online delivery apps are proving useful to people who want to avoid crowded places at such times.
That is the reason most of the countries are using daily delivery management software services amid lockdown and such disastrous situations.
Online Food Ordering Software- Contactless Deliveries
The online deliveries have implemented a zero contact approach to deliver goods and services to prevent their valuable customers and employees from this disease. There is an option for the users to select such deliveries which ensures that the delivery person will not have any contact with the food item or the customer while delivering it from the restaurants to the customer's place. 
[trakop_ebook]
Many other practices have been employed to promote this system of deliveries. With the option of swift and secure transactions, online in-app payment processing gateways are implemented in the online delivery applications, the customers are freed from the hustle of going out and paying cash or taking money back from the delivery person. 
Online Delivery Management Software Services are Benefiting Everybody
Another problem that is seen during the coronavirus outbreak is that business owners are reducing the number of staff members. It has also become a norm for these businesses. But to deliver the ordered products, the owners of online delivery services are rather hiring delivery experts. As we already know that all the big businesses like Amazon also faced the shortage of such staff to surge the customers' demands for online shopping. Therefore, they had hired the delivery staff.
Due to the exponential spread of Covid-19, many industries have devised innovative approaches to survive and thrive to succeed. Also, many others are facing the brunt. There are many such delivery management software solutions that have opened new ways for the small-scale businesses to curb the demands of their customers and also boosting the revenue graphs.
Hope You Enjoyed the Read!
He loves to explore. His passion for helping delivery industries in all aspects flows through in the vision he has. In addition to providing smart solution to make delivery process flawless, Ravi also likes to write sometimes to make it easier for people from business industry looking for digital solutions.