Importance of Fleet Tracking App Solution In Transportation Industry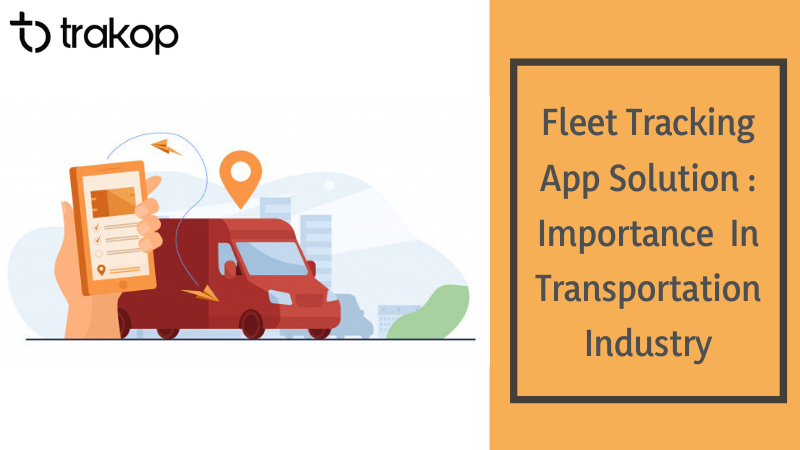 The transportation industry has been a significant mode of communication around the world for facilitating the overall economic growth, social gatherings, and deliveries. In recent times, this industry has gone through some major changes in terms of technology and innovation. From an innovative logistics management system to data analytics, IoT to cloud computing, Augmented Reality to enterprise mobility solutions, technology is being utilized in every sphere of our day-to-day activity to make the transportation and logistics business seamless, accurate and fast. More and more service providers are now relying on these innovations to optimize space utilization in warehouses, autonomous vehicles, etc. in order to increase the efficiency and durability of their services.
What Do You Mean By Fleet Tracking Software
The best available fleet tracking software in the market comes with innovative GPS trackers to find a vehicle's location with the help of a software interface that can display vehicle information like their route, destination, fuel, etc that increase the ease of managing fleet tracking process. To collect all the vital information, a fleet tracking device is installed in the vehicle that needs to be tracked and connected to the mobile devices which then captures various information related to the vehicle, such as fuel consumption, engine status, etc. and matches the information with the location of the vehicle. All of this gathering and analysis is done by the software to provide the user with the right kind of information and alerts.
Benefits of Fleet Tracking App Software-
Enjoying the great benefits of these online tracking solutions offers various industries that have minimized operating costs and increased their efficiency with the help of this vehicle tracking app. Some of them even provide theft protection and other security features also. 

Basically, companies have started using this system to fulfill the above requirements for cost reductions amid the time of the coronavirus outbreak. They want to keep tabs on their vehicles and make all the work paperless by automatically operating vehicle management.
Connect your Transportation Business with a Fleet Management Software
After understanding the great flexibility which this software can offer you must be diligent to implement it in your business. The owners or service providers are all authorized with real-time tracking of driver's activity over the vehicle that gives you the full power to operate the vehicle.  The status of all the connected equipment can also be analysed. If you are an unknown user to this technology-driven innovative solution then it is high time to start using this for your benefits. Therefore, this solution is recommended to make your business operation quick and effortless, thereby, saving your financial resources and providing guaranteed customer satisfaction.
Hope You Enjoyed the Read!
He loves to explore. His passion for helping delivery industries in all aspects flows through in the vision he has. In addition to providing smart solution to make delivery process flawless, Ravi also likes to write sometimes to make it easier for people from business industry looking for digital solutions.