How Milk Business Can Thrive With Online Milk Delivery Software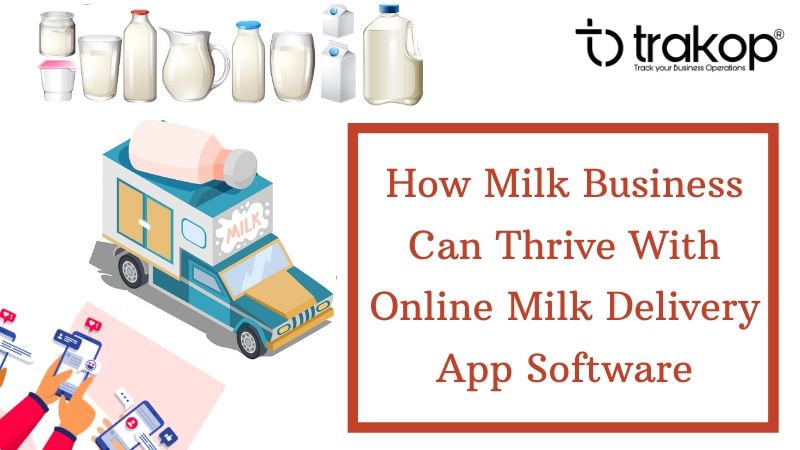 Without any doubt, the pandemic of this 21st century has disturbed our usual lifestyle. Every dairy farm across the world is facing challenges in managing its whole business, delivering milk,  and many more. These dairy farms are usually located away from the cities so it becomes extremely difficult for them to deliver milk due to restricted movement. Surviving in the milk business becomes a challenging task for service providers, especially where the outbreak of coronavirus is more. As regulation of ordering & delivery of milk becomes very difficult.
If we talk about business then managing and organizing things in a business is not everybody's cup of tea. With the help of expert people and advanced technology, you can make a great difference in the offered services and of course in total revenue.  
What is the Online Dairy Milk Management System?
Before moving forward, let us have a look at how these milk delivery app solutions operate. With the online solution, the people in the milk business can easily manage the whole business and sell the milk easily. It is the best online option for customers to order milk through their mobile phone screens with few clicks and the placed order is dispatched to the mentioned place easily at the mentioned time. The dairy owner can showcase the whole business and even can schedule the deliveries by tracking the best route for the deliveries for the drivers. 
How Online Milk Delivery  App Development Solutions Can Help During COVID-19
Online milk delivery app solutions are helping entrepreneurs in diverse ways. Let us unfold one by one. 
Startups to established businessmen can survive in the market if they are changing themselves according to the needs of their customers as well as their customers. Technology plays another important role. Online mobile delivery services are something nobody should skip. As there are several individuals bestowing milk deliveries through online solutions. Besides, in the coronavirus pandemic, where things are difficult to work under lockdown, online milk delivery solutions are working as a ray of hope in the dark clouds of COVID-19. Hence, if you are offering milk even in a pandemic then obviously you would get expanded profits. 
[trakop_ebook]
With Online Milk Delivery Software You Can Expand the Customer Base
Businesspersons always search for customers and they use different marketing stunts to please their customers to increase their engagement with their products or services. Milk management software is an awesome option that increases customer engagement. Hence, delivery options can help you in improving the number of customers in a very short time interval.
Milk Management Software To Lead the Complete Delivery Business Online
The features of the best dairy management system allow service providers to handle the whole milk delivery business. From several features, one is a dashboard that is allowing them to get updated with every single move of the whole business within seconds which may include- the number of consumers getting online delivery of milk, active users, data of whole delivery experts, & revenue generated in a day week or month-wise. Everything can easily be tracked and managed with the in-built features. Apart from this, there are many such features that help milk distributors or dairy owners to organize their business well.
Milk Delivery Apps Have Made the Payments Online 
This is the best option, especially in a situation where human touch becomes the biggest sin. Funny but true that is shown during the coronavirus pandemic. To get out of this, multiple online payment options are acting as stress-free option for all the users. This means this feature has made transactions online that may include debit cards, credit cards, and several mobile payment gateway options. Besides, this option has reduced payment-related discrepancies.
Conclusion
The simple and effective tools of online dairy milk app services to deliver milk are proved as a blessing that enables businesses to thrive in the market even in the coronavirus outbreak. If you also want to thrive in the milk business, it's better to get attached to the milk delivery software. For more information, click here. 
Hope You Enjoyed the Read!
He loves to explore. His passion for helping delivery industries in all aspects flows through in the vision he has. In addition to providing smart solution to make delivery process flawless, Ravi also likes to write sometimes to make it easier for people from business industry looking for digital solutions.