How Direct-to-Consumer Brands Can Continue to Grow?
Growing dependency and usage of the internet has resulted in a drift shift in how consumer shop and how businesses reach out to them. Traditionally, the manufacturers relied on distributors, wholesale, and retail partners for their products to reach the consumer. 
However, this traditional outlook has changed. Manufacturers have started selling their products directly via online retail using delivery management software or self-owned showrooms. 
Consumers prefer to buy directly from their favourite brands and brands love to sell their products directly. Many DTC brands prefer having their own logistics system rather than hiring third-party logistics (3PL).
Tips on how direct-to-consumer brands can continue growing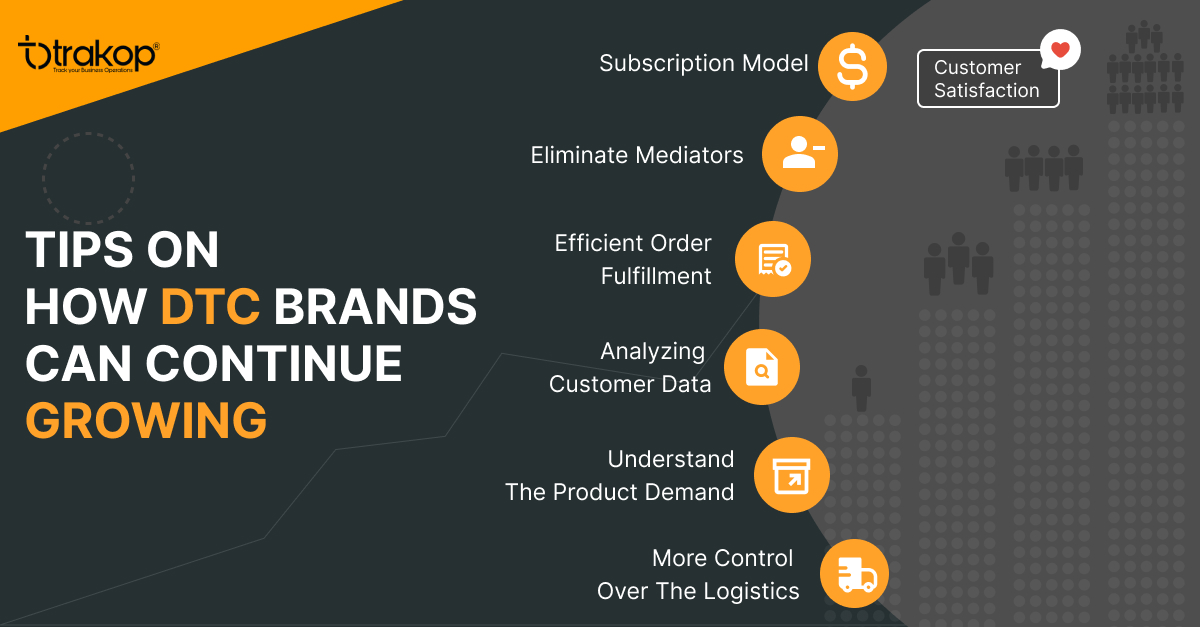 Subscription model-

Opting for a subscription service helps in finding ways to drive more sales from existing customers. This can be implemented using

delivery management software

that supports a subscription business model. Giving monthly offers helps create a consistent income and increase brand value. The subscription model is considered to be one of the most useful tools when it comes to customer retention. Dollar shave club is one of the finest used cases to understand this concept. It is a California-based company which delivers razors and other personal grooming products. Dollar shave club follows DTC and is subscription-based. 

Eliminate mediators

– Removing mediators like third-party logistics and opting for in-house logistics can cut off additional operational costs. Online shoppers can directly place their orders from the website of the brand which can increase DTC sales.

Efficient order fulfilment

– Make the order fulfilment process more efficient and cost-effective. This helps you make timely deliveries while increasing the customer satisfaction score. 

Analyzing customer data

– Analyzing the customers' data is a must to understand their sentiments. This helps improve the products and services and retarget the shoppers. 

Understand the product demand

– The business must study the market and the demand for the product in that market. Having precise data on previous product sales helps businesses to plan out future sales. 

Customer satisfaction

– Asking for customer feedback on the product and service helps a business to evolve and improve its quality and build authentic connections with its end users. Good customer satisfaction scores help increase customer retention and decrease the churn rate. It also adds value to the brand and builds trustworthiness. An effective DTC strategy can help create strong relationships with the buyer and build a loyal following.

More control over the logistics

– Having in-house logistics helps in reducing the extra costs of third-party logistics. Fuel costs can also be reduced by using an auto-route optimization system which creates the shortest delivery path. Businesses and buyer can track their delivery drivers and get real-time order status updates. 
Direct-to-consumer can flourish with the help of technology like delivery management systems. It is an integrated technology which can help D2C commerce streamline the business process and cut additional operational costs. Many brands have been convinced of the importance of the DTC model which is not only cost-effective but also time-efficient.
If you are interested in knowing more about the Direct-To-Business and seeing how we can help: Book a Meeting
Hope You Enjoyed the Read!
He loves to explore. His passion for helping delivery industries in all aspects flows through in the vision he has. In addition to providing smart solution to make delivery process flawless, Ravi also likes to write sometimes to make it easier for people from business industry looking for digital solutions.