Corona Impacts on Subscription Driven Business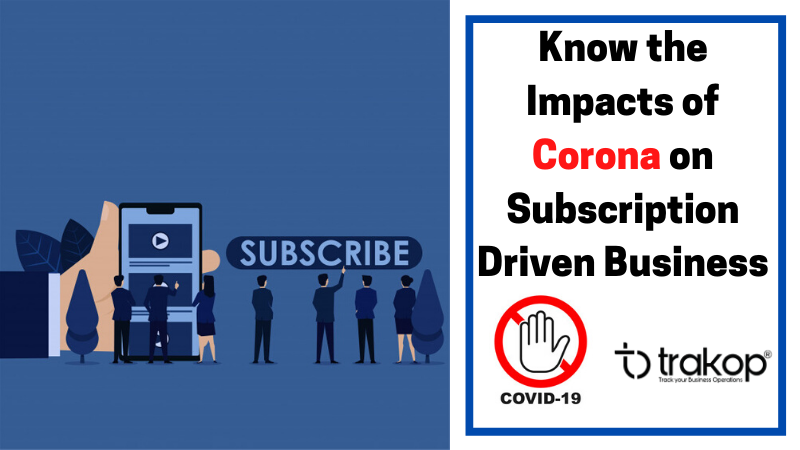 The rapid outbreak of the global threat coronavirus has posed a health crisis on a major level that the world has to grapple with right now. It not just impacted human lives tremendously, but there is also a significant commercial impact being felt globally by subscription-driven businesses like Netflix, SAAS, etc. As diseases know no borders, the impacts will continue to spread and may have an everlasting impact on businesses, etc.. In fact, one of the biggest businesses in this world is already seeing the disruption this pandemic has caused.
What Do You Mean by Subscription Driven Business
Subscription-based businesses implement the idea of selling a product or service to receive monthly or yearly recurring subscription revenue. Their main focus is on retaining customers rather than acquiring customers. In essence, subscription business models focus on the criterion on the basis of which the revenue is made so that a single customer pays multiple payments for a longer duration and enjoys the best services or goods. With the rise of technology and software as a service product, many companies are moving from a business revenue model where revenue can be generated on a recurring basis with the maintenance of long-lasting relationships with consumers.
How Online Subscription Management Software Can Help Your Business?
If a business has a good number of customers, then you might need to collect their details in a single place like phone numbers, contacts, addresses, history of purchase, and much more. Therefore to handle the huge data generated from the business transactions efficiently you will need subscription management software that can help you out by managing all the vital information at a place and handles every aspect of your subscription business and provides you with immediate searches when required. In addition, it may also 
Simplify the process of information extraction, 

Saves time 

Helps in managing payments efficiently

Get complete information about analytics

Information about payment failure retries

Charging tasks
[trakop_ebook]
Do You Want The Best Subscription Management Software?
After thorough and deep research, we bring you one of the best subscription management software like Trakop.com that does not restrict you on revenue and customers by generating unlimited revenue as well as enables you to add unlimited customers.  This is a stand-alone application for all your subscription billing needs that fit in your budget and offer more. This online system is efficient in managing your entire subscription-based business right from payments to subscriptions to reporting and enhances your business potential in ways you can only think of.
Hope You Enjoyed the Read!
He loves to explore. His passion for helping delivery industries in all aspects flows through in the vision he has. In addition to providing smart solution to make delivery process flawless, Ravi also likes to write sometimes to make it easier for people from business industry looking for digital solutions.